In my last Letter from Panama I talked about thinking outside the box when it comes to knowing your True Cost of Living in Panama. Delving deeper into that message lets have a look at Panama Real Estate as an investment.
Could Panama be one of the Best Places to Invest?
Many consider this "New World Country" not only the Best Place to Retire but one also and perhaps even more so, one of the Best Places to Invest. What a great combination! Hopefully you are now saying, "Tell me more!" You recall from one of my first Letters from Panama that I'm big on taking time to pause and get educated before jumping into anything – be a vacation or a big move to Panama. It's pretty obvious but needs to be stated, one needs to learn to invest first generally and then specifically, as in Real Estate in Panama. Let's start with some basic information and in case you haven't read my Panama FAQ page let's give you a little recap of Panamanian history and geography – Panama is a small piece of land that looks kind of like the letter S lying down. Its about 1100 mi south of Florida and it lies inbetween an ocean and a sea – the Caribbean Sea is north, and the Pacific Ocean is south. It's also located between two countries – west is Costa Rica and east is Columbia. Got it yet? Of course you do, its Panama. To get an idea of the relative size of this powerful little country, it is a
total of just over 29,000 sq mi, or slightly smaller than South Carolina, which comes in a little more than 30,000 square miles. Its about 400 mi in length running west to east – which can be a little confusing at first for North Americans. It's also relatively narrow and averages just 50-70 miles wide from north to south. There are a number of mountain ranges crossing the country in various spots. The western most mountain range which enters Panama as a continuing range from Costa Rica is named the Talamanca Range. You'll find it in the somewhat famous Province of Chiriqui, that's where Boquete is. This mountain range has Panamas tallest mountain, Volcan Baru which is 11400 ft in hieght (3475 mtrs) and is home to beautiful tropical rainforests with Boquete at its base on one side and Volcan on the other. Many consider this small town paradise on earth and an excellent place to invest. In fact AARP ranked Boquete the third Best Place to Retire in the world – the #1 spot in the western hemisphere – based on that alone I'd say you could consider Boquete one of the Best Places to Invest in Real Estate. Back to some country stats – on the globe it lies between 7 and 9 degrees N Lat and 77 to 83 degrees W Long putting it smack dab in the middle of the tropics. Panama is quite small by comparison to many continental North American and European countries. Panama weather is affected largely by the seas of water on both sides rather than by the land but it is protected from violent weather (can you say, Hurricanes?) so you know your real estate investment is safe and secure. You might think of this land as a small bridge with a variety of landscapes floating in a big tub of water and basking in the tropical sun! Check out Boquete Weather for their great research and super description of Panama. The Panama Canal, the eighth wonder of the world, cuts this country of lush jungles, rain forests, pine forrested mountains and rolling hills. North and south of Panama you'll find hundreds of islands close to shore – another solid potential place to invest. Click here for a map of Panama. So, if you're concerned about your investments and you wondering whether to continue to invest in mutual funds after the heavy losses the past few years have brought you may want to seriously consider making your way back to the traditionally best place to invest – real estate.
What area is the Best to Invest in?
When you're ready to invest funds – invest capital in foreign real estate you really want to make certain the area you look at is safe and truly the Best Place to Invest. Are you considering real estate investment properties like investing in commercial real estate? Will you need an investment property loan? You might even be considering a rental property investment which will require a rental property mortgage. These are all big questions and important ones to consider. Once you step out side of American property investing you need to make sure there are real brokers who are legit and can help you. To uncover the best places in Panama you will want to start by looking for reputable real estate and investment professionals is Panama City. But, that doesn't mean there aren't good investment professionals elsewhere in the country. The reality is big city professionals come with big city fees – much like anywhere on the world. What to do in Panama? The key to a smart investment in real estate in Panama is just like investing anywhere else is to do your due diligence. If you're looking to invest outside Panama City it's still smart to begin by making connections there. Then ask for referrals to professionals in the area you are considering. Pause again though and do your due diligence on that person in that area. They may have strong ties back to Panama City but may not be well liked in the area you are considering. The obvious solution is to find someone who gets glowing review in both real estate markets. The bottom line on the best panama real estate investment is one where you know the outcome before it happens.
Is Investing in Panama considered A 'Low Risk Investment'?
Yes, and there are a few very good reasons – one is the stable, democratic government. As a Constitutional Democracy since 1972 this is a stable safe country to invest in. The Panamanian government has three branches, the Executive, Legislative and Judicial. Elections are by popular vote, held every five years. The President serves as the chief of state and the head of the government. The presidents chosen cabinet is also assisted by First and Second Vice Presidents. The legislature is 72 members and is elected by the people out of nine political parties. The Supreme Court has nine judges appointed for ten years.
The Constitution, amended in 1990, abolished armed forces and replaced them with Fuerza Publica (Public Force) which is made up of National Police, Maritime Service, and Air Service. Their are a large number of multinational companies doing business here and the number is growing daily This is a testimony to the confidence the international community has placed in this stable economy. Panama has become an investment place like many other leading markets – called 'The Hong Kong of the West' making real estate investment a Low Risk Investment especially when you consider a future retirement real estate investment property can be available now as a rental property investment. Its a ptrotected place to invest where you can rent out your real estate to ex-pats and know your investment is going to not only be safe but continue to generate revenues for you.
The Torrens titling system is another very good reason to consider Panama Real Estate a safe investment. You can read more about that in my 'Is Panama Safe?' letter. A few other key benefits Panama brings to the investment safety question:
Panama Weather – you've heard me say it enough already I'm sure. Safe weather means a safe asset and a safe asset means lower insurance costs – both say 'Safe Investment'.
U.S. dollar based economy. Although the U.S. dollars is playing a roller coaster game around the globe your investments in Panama are made and remain in U.S. dollars so you won't be subject to exchange rates or these massive valuation fluctuations. In Panama a dollar is a dollar.
Can I Invest my U.S. Dollars?
Well, I did just address that but let me expand on the point. The U.S. dollar is the money of choice throughout Panama making it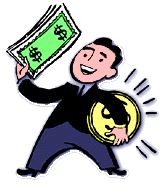 easy for Americans to travel and as a place to invest. Panama still mints coinage, known as the Balboa however, the Panamanian and U.S. coins are of the same size and denomiation and are interchangable. Businesses, resorts, hotels in major cities and through out the country accept nearly every major credit card. Bank 'Debit machines' are called 'Clave' and accept all debit cards from around the world. You can find Clave machines in even the smallest communities. You can use travelers checks but, if cashing them at a bank, be prepared to pay a small fee. It's a good idea to carry a small amount of U.S. bills, in low denominations, for tips and spur of the moment purchases. When looking for a place to invest, Panama's world class banking system makes it easy. Wire transfers from around the world are very common as this off-shore banking system is second in size only to Hong Kong.
Commercial Property Investment
Commercial investment real estate is really growing particularly in and around Panama City but don't discount other places in Panama for setting up a business. The old Howard base is perfect with infrastructure already in place and it's been a very attractive place for larger companies to base while investing funds to manufacture or distribute products from here. It's ideal for reaching wealthy South American and Asian markets without the hassle of Uncle Sam.  Dell moved in a few years ago into the old airforce base and is now able to use this are as a hub to distribute their computers all over Latin America and South America. This type of commercial property investment is growing rapidly as companies can do so cheaply and find it best to invest here rather than shipping from further away and dealing with protectionist American red tape. Another bit of action happening on  the commercial front is in office space. A few years back everyone was saying Panama City would crumble under the load of speculative condo projects but investors and developers got smart. They saw the writing on the wall as the U.S. crashed and their future condo inhabitants stopped coming in droves. So, they switched gears and turned many of those projects into viable commercial office space. With companies coming from all over the world to base here they need the space for their employees to work from. It's just one of the many reasons Panama has not only weathered the global economic crisis it has actually thrived and is set to experience one of the highest economy growth spurts in the world this year, estimated to be close to 7%.
Can a foreigner purchase real property here?
Absolutely. You have the choice of purchasing land or to invest in a house, a business either in your own name, through a corporation or a trust. Most real estate property in Panama is under freehold title, meaning you own your investment free and clear enjoying the same property rights as national citizens. Another real plus and another solid reason this is the Best Place to Invest.
There are some areas still being reviewed by the government for proper title so uncontested ownership can be certain, some coastal portions of land and sometimes native Indian acreage is protected. As with all real estate investments in a foreign country, the importance of dealing with a reputable real broker and investment lawyer can not be emphasized enough. A good real estate investment lawyer will research your land documents ensuring that you hold free and clear title. He will make certain that all necessary legal documents are properly registered with the local municipality. A reputable lawyer protects your interests, providing you with peace of mind for your place to invest.

Money to Invest in Global Markets
As a place to invest Panama opens a window on the world and a world of opportunities. Certainly it could be considered best to invest your money here and from here. Whether you are looking to stock invest, invest funds in bonds and other money market investments outside of your real estate portfolio the real brokers here offer excellent services and can provide property investment advice on funds, real estate, bonds and stocks for emerging and stable markets all over the world. Many of the investments you will be exposed to from Panama you won't hear about in the U.S.
Is it Best to Invest in Land or Condo?
It's an important consideration when thinking of a place to invest but really comes back to personal needs and desires. If you are looking for the best place to retire your investing needs to take into consideration where you want to live. Invest in beach property if you like the heat, surf and sand. Invest in mountain property if you prefer nature, hiking and the cool mountain air. If you're not thinking of moving or retiring to Panama for a number of years you may want to just buy land. Then again purchasing a home or condo and renting it out is a savvy investment choice too. All are viable options for you in Panama and certainly ones for you to consider.
Panama – the New – Old Place to Invest!
Yes, Panama is a new place to invest in an old world for many but many others have been investing here for decades. As we become more of a global economy maybe it's time for you diversifying your portfolio and considered this new 'Best Place to Invest in Real Estate'.