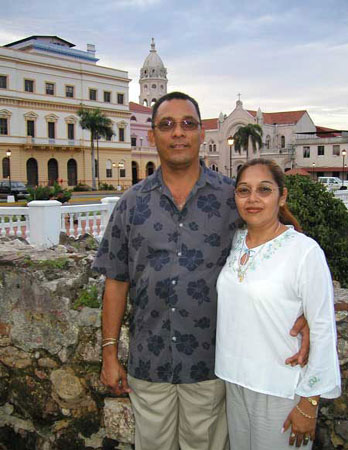 As you've read in my Letters from Panama on my very first I decided I just had to move here! Before I left, to return home to Canada and pack our things, I asked someone if they could refer me to someone who would help get our stuff from the airport in Panama City to Boquete. I can't even remember who told me but some one simply gave me a name and a phone number. They said, "Call Jose Saenz. He will take care of you." So, I did. Back in Panama City, just prior to my departure, I called Jose and told him I would be returning with my wife, kids and everything we managed to pare down for settling in Boquete. In his relaxed way Jose gave me his e-mail address and just said let him know what flight we would be on. I have to admit, after sending that e-mail and then touching down at Tocumen I did not expect Jose to show. It all seemed to easy – too simple. I was wrong! Jose was standing at the gate. In a moment we were ushered into a van while  Jose and one of his helpers loaded our twenty some boxes and bags of things into another van. The van with our things headed off and Jose took us to our Panama City Hotel where we would spend the night before flying out for David on the 6:00 am flight the next morning. As he dropped us at our hotel Jose again in his easy going Panamanian style said, "See you tomorrow in Boquete." As Jose drove off I thought to myself, maybe I should have gotten a receipt or something but shrugged it off. If Jose really needed a bunch of used Canadian clothes and some kids toys who was I to argue!  The next afternoon, after arriving at our new home in Boquete it wasn't long before Jose pulled up to the front car port. I couldn't believe it – Jose had personally driven our things the six hours all the way from Panama City.
To this day I have used Jose and recommended his services t numerous friends and acquaintances. I can say I've never had a bad report. So, what does Jose offer you ask? Here's a list of just a few of the relocation and travel services you can count on Jose to deliver in his laid back but exceptional way –
Personal Transportation & Airport Transfer – He'll pick you up and take you anywhere in Panama City or anywhere in the entire Country for that matter.
Shipping and Delivery – He can help you ship or receive baggage, containers or any other freight within Panama and he can help you get things from home to Panama or vice verse.
Pet Relocation – I know this is top of mind for many pet owners. Jose can help get your pet to Panama and get them to your new home.
Panama Tours – He also offers personal customized tours of Panama City, the Canal, an Embera Indian Village and many other areas of Panama.
Vehicle Registration & Transfers – If you're importing your car or other vehicle Jose can help with the vehicle registration.
Getting a Panama Driver's Licence – Jose can help you get a Panama driver's license. It is not difficult but there are several important steps and if you don't have a solid grasp of the Spanish language it can be a challenge. Most of the service industries in Panama have English speaking staff but not government offices.
Pickup and Deliver Renewed Passports from the Embassy – Jose will pick-up and/or deliver your new passport from the Embassy so you don't have to make a special trip to Panama City.
and… lost more. Just ask Jose and I'm sure he will find a way to help you get what you want!
You can contact Jose by E-mail jose@goldenfrog.net or in Panama by phone (507) 6-614-7811 – Be sure to tell him Mark says hi!