What currency is used in Panama?
Essentially the U.S. dollar is the money of choice throughout Panama. Panama still mints its own coinage, known as the Balboa however, the Panamanian and U.S. coins are of the same size and denomination and are interchangable. Businesses, resorts and hotels in metropolitan areas accept nearly every major credit card as do bank debit machines found throughout the country Quick Tip –  look for the red 'Clave' symbol. This is the sign that tells you the business accepts debit cards it is also the same symbol you look for to find an automated cash machine machine. Travelers checks can also be used and cashed at hotels and banks – be prepared to pay a token fee. It's always a good idea to carry a small amount of U.S. bills in low denominations, for tips and spur of the moment purchases. Also, remember the U.S. dollar is the main currency so unlike other countries it's nothing special for Panamanians to see. This cuts down on petty crimes that you often see in other countries like Mexico where the allure of the US dollar can attract criminal activity – not so in Panama.
Do I need an adapter for electrical appliances?
Panama electric provides both 110 and 220 volt electricity just like in the U.S. and Canada. Urban centers always offer 110 volts with outlets accepting U.S. plugs. If you're traveling with delicate electronics, e.g., laptop computer, you might want to pack a surge protector. It's not uncommon, particularly in the interior regions to experience power surges which can damage sensitive electronics.
What are the visa requirements to visit Panama?
In the past North Americans had to purchase a 'Tourist Card' for US $5, upon entering Panama. If you were
traveling on a vacation package you probably never even noticed because your tour company purchased it on your behalf and included it in your package. If you were flying into Panama some airlines also included the charge in their fare and some not. It got quite confusing.  Sometimes you would purchase it from the airline at the departure, sometimes you would need to buy it at a little kiosk in the arrival terminal at Panama's Tocumen International Airport in Panama City just before passing through custom and immigration. Often the kiosk was unmanned which made it even more of a fiasco. New travellers would arrive walk through to the custom and immigration officer, many of which spoke only broken English. The traveller would be ushered back in a confused state and be left to wander – trying to find the kiosk attentant.  As a seasoned Panama visitor it would look quite comical at times but I know very frustrating and never racking for the new visitor. Once you finally got your Tourist Card you were required to carry it along with a photo ID with you at all times while in the Panama.
The Good News! This is no longer the case. The customs and immigration zone at the airport has been modernized and improved dramatically as have the procedures. Now, you get a stamp in your passport which serves as your authorization to be in Panama as a tourist. The US $5 charge is no more. I believe there is still an entrance fee but it's been streamlined and is charged directly to the airline so  it's included in your airline ticket. One thing has not changed though and that is the requirement to have your passport or a photocopy of your passport, including a copy of the page with your entry stamp, on your person at all times when traveling about the country. If you're at a resort it's OK to leave it in your room safe or at the front desk safe.
Now technically, your tourist stamp gives you a visa which is valid for 90 days stay in the country. It is deemed non-renewable. However, Panama's immigration department is completely overwhelmed with applications for all kinds visas, so there is currently a temporary decree that the tourist stamp (visa) is now valid for up to 180 days. But, as in typical Panamanian fashion, if you contact immigration, you might be told 90 days or you might be told 180 days. The key here is the immigration officer at the airport they make the final decision when you go to leave and they are the ones who stamp your visa when you enter. If you happen to overstay your tourist visa by even a couple of days, you will have to go to the immigration office in Santiago, Veraguas, or Panama City to explain your situation. The fine for overstaying your visa is US$50/month and must be paid before you will be allowed to leave the country. Once you have paid your fine, you have nine days to leave Panama.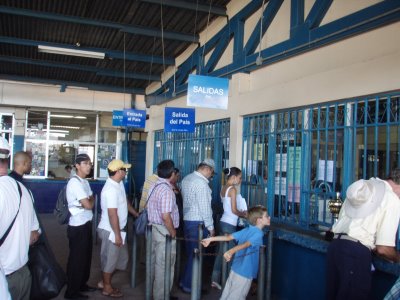 If you are planning to stay longer than your allotted time (90 or 180 days), which is very common for those who first immigrate to Panama and are awaiting their permanent visa, i.e. Pensionado, you can do what ex-pats refer to as "the border run".  Meaning you run up to the Costa Rican border and leave the country for at least 72 hours. Then you return and get a fresh stamp – tourist visa. It's quite common for new ex-pats to go for a long weekend every three months in Costa Rica. It's important to note that the Panamanian authorities aren't too keen with this but you are working within the framework of their tourist laws so grumpy officer or not it works.
How are the Panama Medical Facilities?
If by chance you fall ill or have an accident in Panama rest assured, you can expect top medical service on a par with the United States, where many of the doctors have been trained. The larger urban centers like Panama City and David offer excellent treatment, some even honoring selected U.S. insurance policies. But don't expect to pay U.S. prices. Nope, this is one more plus – the Panama cost of living is dramatically lower thanks to items like health care costs. When you retire in Panama you don't have to stress about a major medical bill bankrupting you or your family. For example – An office visit to a doctor may be as low as $10. On the high side, a private hospital stay might run you only $800, and that includes everything. Expect the same level of professional care for dental needs, but pay only about one third the U.S. cost. And if you require a major Medicaid treatment, remember Miami is only a three hour flight away. For smaller medical necessities, each province provides state health centers and hospitals, as well as private clinics.
Is crime a problem in Panama?
Panama is one of the safest countries in Central and South America. The most prevalent crime is petty theft, which sadly seems to be the case wherever you are in the world. However, capital crime rates are very low, far better than you might encounter in New York, Los Angeles or any large urban center. It doesn't matter what country you are in – if you are involved in borderline legal activities you're looking for trouble. On the other hand if use common sense, you're friendly and aware you will find Panama very safe and the people exceptionally accommodating.
What if I don't speak Spanish?

Even though Spanish is the official language, most Panamanians speak at least some English, many speaking it fluently. Panama's officially stated second language is English and the government is working hard to get quality English taught in the public school system. Pretty much every educated Panamanian under the age of 30 speaks English fluently. However, since this may well end up being your adopted country, showing respect for the Panamanian culture by learning some Spanish
will be greatly appreciated by your new friends and neighbours.