Panama Travel Planning Tools
Prepare for your visit to panama
As I stressed in my last supplementary report, Panama Travel Tips, it's best to invest a few dollars now preparing for your visit and possible migration to Panama rather than landing there looking like a deer caught in headlights! I do get comments and e-mails from people accusing me of trying to "sell them" but really, if you're traveling to Panama and you are serious about planning a good trip to Panama or moving there you are talking about an investment of a few thousands dollars up to possibly your entire life savings! Trust me a few dollars now is going to save you a ton later on. So, if you accepted my suggestions in my last supplementary report you now have a good space to do your research with a map on the wall and a road map on the table. You might also want to get yourself some coloured pins, markers maybe even some string depending on how organized and prepared you ant to be.  So, what else do you need? This is the Step 2 I referred to – Tools to build upon your knowledge of Panama and uncovering what you really want.
Step 2 – Invest in some resources
Now is he time to build your knowledge of Panama and help you discover and refine what you really want to see, hear and do. Once you are on the ground and your trip has begun it's too late. You will be experiencing the rush and sensory overload from everything new. That's why being prepared and having a plan is so important. Your plan allows you to relax and enjoy the moment. Your plan thinks for you so you can just enjoy the emotions as they wash over you knowing your plan will prevent you from missing anything or making mistakes. Maps, Dictionaries and other travel tools are not easy to find once you are in Panama. And even if you do find them there is a good chance they will be in Spanish, not English. So, I suggest you get them now and have them delivered to your home prior to departure. Don't wait until you are ready to go. These additional tools will serve you well in your trip planning so order them now.
1.

The Best panama Travel Guide
When it comes to Travel Guides only the best will do and that's Lonely Planet! I encourage you to start with what I believe is the best Travel Guide for Panama (or another country for that matter) available on the market. Read it cover to cover and take notes. You will want to highlight, dog-ear and put post-it notes all ver this book. In addition while you read be sure to put pins on your wall map and make notes on your travel map.
Now you are building a practical and usable plan with a list of places to see, things to do and how to find them.
Quick Tip – Also, as with your Travel Map be sure to pack your Lonely Planet Travel Guide in your carry-on bag so you have it handy upon arrival.
2.

The Panama Starter kit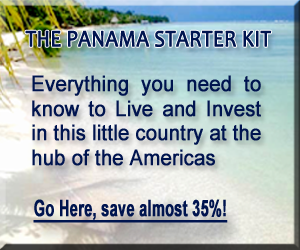 If you are just planning to visit Panama as a tourist but have no intention of investing or living in Panama then this kit may very well be overkill for you. However, at 35% off it's a pretty cheap way to learn a lot more about Panama than just the tourist hot spots and you never know, after going through all the information in the Panama Starter Kit you may just discover why some many people are moving to Panama!
If you are thinking of Panama for a vacation home, retirement or investment than I strongly encourage you to invest in The Panama Starter Kit. I really wish this resource was around when I first started looking at Panama! Click to learn more.
2.

An Opportunity to Learn and Grow!

One of the greatest things about traveling and living abroad is the opportunity to learn a new language. Regardless of whether you really want to learn the language or you just want to make sure you can communicate during your visit you too will need a good Spanish-English Dictionary. We tried a bunch before we discovered the HarperCollins Beginner's Spanish Dictionary
It is by far the best! In fact every time I show this dictionary to someone, be they Panamanian or Ex-Pat, I always get the same response, "Where did you find that!" Well, I've lost count how many of these I've brought back to Panama over the years. Now I just refer people here to order online – it's cheap, quick and easy!
---
It is my sincere hope that these recommendations make it easy for you to plan your trip to Panama by saving you time and money. I will be sure pass on more recommendations in special supplementary reports to you from time to time.
Be sure to watch your inbox for my next "Letter from Panama" .
Hasta Luego! PanamaMark